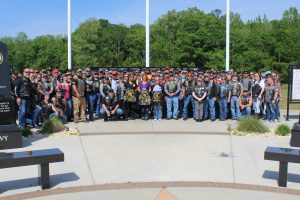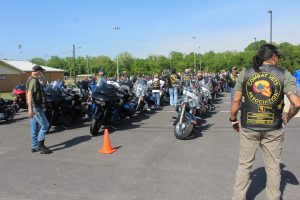 The Alabama chapter of the Combat Veterans Motorcycle Association (CVMA) held a wreath-laying ceremony at the Veterans Memorial Park of Jackson on Saturday, April 30.   About 80 members, Auxiliary and Supporters rode their motorcycles to the Park for the event.
CVMA® is an Association of Combat Veterans from all branches of the United States Armed Forces who ride motorcycles as a hobby. As a registered 501(c)(19) veterans' charity, their mission is to support and protect those who have defended our country and our freedoms. Their focus is to provide assistance and help to individual veterans, veteran care facilities, other veteran organizations and registered charities. They sponsor and participate in many veteran-related motorcycle (and other) charity events each year, and as a non-profit organization, donate to various veteran causes.
Their membership is comprised of "Full Members" (those with verified combat service), "Supporter Members" (those who have non-combat military service and have a strong dedication to helping veterans), and "Auxiliary Members" (Spouses of both Full and Support members). They have members from all 50 states and numerous countries abroad, including combat areas.
Websites: www.combatvet.us (National) www.nalcvma.com (North Alabama