PARK FEATURES
The Park is located on a 6-acre site adjacent to the VFW Post 6073 and American Legion Post 30 home.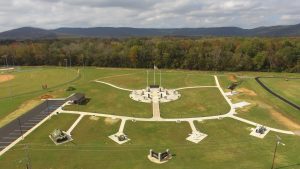 MONUMENT CIRCLE: This 100' diameter concrete circle contains the central features of the Park: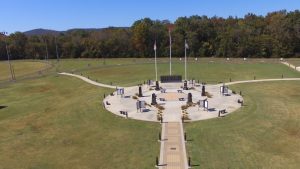 HONOR WALL: Granite wall with the inscribed names of 227 Jackson County service members killed in combat
SERVICE MONUMENTS: Granite monuments recognizing the six branches of the Armed Forces and POW/MIA service members.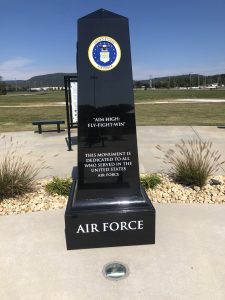 SOIL MARKER: A marker in the Circle center positioned directly over where soil is buried that was collected from battlefields around the world
KIOSKS: 36 panels that chronicle the wars and conflict fought by the United States and information on US military service
FLAGS: Flags of the United States of America, Alabama State Flag, and POW/MIA remembrance flag.
BROTHERHOOD PAVILION: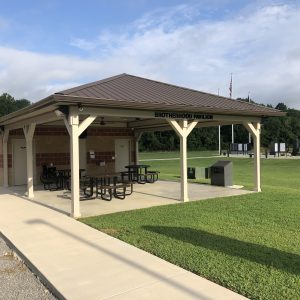 Covered pavilion with bathrooms with a special dedication plaque recognizing the brotherhood of two local veterans.
MILITARY DISPLAYS
Tank
Cannons
Anchor
Cobra helicopter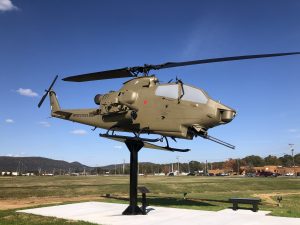 Hunter drone
Huey helicopter (future)
Missile (future)
PATRIOTS WALKWAY
Paved walking trail along the backside of the Park with panels recognizing 10 Medal of Honor recipients from the State of Alabama
LIGHTED WALKWAYS 
Lighted walkways throughout the Park
ENTRANCE PLAQUE:
Plaque with Park history and information
DONOR PANEL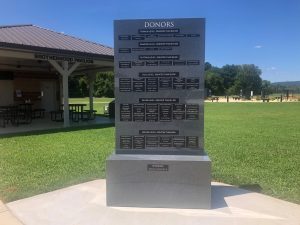 Granite panel that recognizes donors of cash, materials, and services 
BRICK PAVERS:
Entrance walkway to Monument Circle with pavers engraved with personal inscriptions
BENCHES
Granite Benches throughout the Park from donors with personal inscriptions
TAPS
TAPS, a bugle call to remember those who gave their lives in the service of their County is played every evening at official sunset.