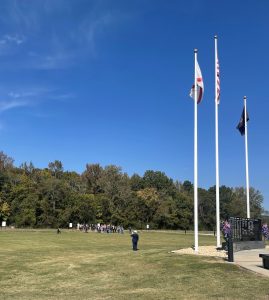 A ceremony was conducted on October 15, 2022, to dedicate the addition of the Patriots Walkway at the Veterans Memorial Park.
       The Patriots Walkway honors all those who love our Country and are devoted to boldly support, and if necessary, answer the call to defend it.
       The ceremony included a brief discussion of the construction history of the Park, and the generous support of the Jackson County community, as it has become a living Memorial and important part of the community.
       The main ceremony was held on the Patriots Walkway where the heroic actions of each of the 10 Alabama recipients of the Medal of Honor were read.  Everyone present learned of how they chose to save the lives of their Brothers above their own in a life-or-death situation. Each recipient showed gallantry and valor above and beyond the call of duty.
       Family members of Medal of Honor recipients, Staff Sergeant Paul Luther Bolder and Sergeant William Wayne Seay, were in attendance and shared their personal stories.  One family from Indiana brought the actual Medal of Honor, awarded posthumously to Sergeant Seay.
       The ceremony concluded with a prayer thanking all veterans and their families for their sacrifices and service.  Everyone then faced the United States of America Flag, recited the Pledge of Allegiance, and stood silent for the playing of TAPS.
       A reception was held in the Post home where Sergeant Seay's Medal of Honor and other personal items brought by the families were displayed for all to view.
       The Veterans Memorial Park of Jackson County is located at 1616 Heroes Drive, Scottsboro, Alabama.  Visit www.vmpjc.com for additional information about the Park.
       Gayla Sue Mendez